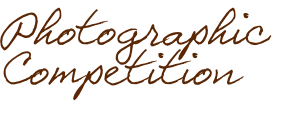 Each year we hold a photographic competition which is open to all members.
This year's competition is being organised by Sue Beresford and will be judged by Jean Briers who is a well known artist, teacher and art exhibitor (and who is also one of our own members). Some of Jean's work can be seen on the website www.briersart.com.
All photographic entries must have been taken on one of the society's guided walks during 2019 up to and including Sunday 10th November. Membes can enter all categories but photographs must be sized 8" x 10" if possible with the name of the photographer, the date and place of the walk, the title of the photograph and the category in which the photograph is being entered.
Entries must be submtted to Sue no later than Tuesday 12th November 2019. Results will be given and prizes presented at the End of Season Dinner on Friday 22nd November.
For more information please contact Sue Beresford (telephone 01606 41787 or 07443 423511.
Categories for the 2019 competition are:
1. Landscape - view on a walk, land or water, hills, forests etc.
2. Stuctures - an interesting man-made feature such as signposts, bridges, churches, statues etc.
3. Flora and Fauna - trees, flowers, animals, birds, butterflies etc.
4. Portraiture - an individual person or a group of people.
Other general photographs that are taken on walks can be inserted onto the Gallery pages of the website. These should be sent to Jean Pritchett by email to webmaster@davenhamramblers.co.uk