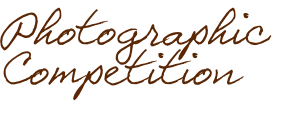 Each year we hold a photographic competition which is judged by Gary Sandiland, the head of Photography at the South Cheshire College.
Prizes are awarded at the end of season dinner.
All photographic entries must have been taken on one of the official guided walks with the place and date identified.
For more information please contact John Leese (telephone 01606 74925).
Other general photographs that are taken on walks can be inserted onto the Gallery pages of the website. These should be sent to Jean Pritchett by email to webmaster@davenhamramblers.co.uk
Categories for the 2017 competition will be different than previously in order to stretch the skills of the photographers.
Entries for the 2017 should be sent to John Leese before 4th November 2017 to be judged before the end of season dinner on 17th November.
This year's categories and the judge's comments are as follows:
Category 1. Texture and Patterns.
The structure of an object is its form and the material from which it is made constitutes its texture. To simplify - the texture conveys what the subject feels like to touch. Is it hard or soft, smooth or rough? If you can convey these feelings then you are translating texture visually. Contrasting a smooth object and a rough one allows you to see the different textures. Getting in closer helps to achieve this feeling.
Patterns can be found everywhere - in nature and in man made constructions. They are made up of repeated objects, shapes or colours and whether they are random or ordered can be very pleasing to the eye. Entrants can use patterns as the main subject of the photograph with the focal point on the patterns. Or you can use the patterns as a backdrop for something else.
Category 2. The Found Still Life.
When most of us think of a still life photograph or picture, we generally think of a created still life where the entire composition is built or arranged by the artist. This is often a skill used in portraying a bowl of fruit - for instance choosing the most photogenic bowl, which fruit to use, how to position and light all the different elements.
But when you are walking down your favourite hill side and see a fallen leaf sitting on a particularly attractive rock, this also constitutes a still life. If you photograph it as you see it, without making any adjustments this is known as a Found Still Life.
Category 3. Leading LInes.
These are lines within a image that lead the eye to another point in the image, or occasionally outside the image. Anything with a definite line can be a leading line. Fences, bridges, furrows in a field, and even a shoreline can lead the eye.
If you can pair leading lines with a subject that is placed according to the rule of thirds, your image should be very strong.
Category 4. Miscellaneous.
This fourth category includes everything else!!
All photogaphs should be recognisable as being taken on one of the listed walks in the 2017 programme and labelled accordingly with the date, place and perhaps a title as well as the photographer's name.
Winners 2016